61% of low-income children have no books to call their own.
Poor children have heard 30 million fewer words than their middle class counterparts by the age of 3.
With so many crises occurring in the modern world, this is an issue that is ignored too often; after all, it is a nearly invisible problem for many privileged people. Inspired by classifications of areas, typically in the inner city or in rural settings, where grocery stores are far and few in between as "food deserts," researchers and advocates have begun referring to areas where many children lack adequate reading material as book deserts.
Book Desert [boo-k * dez-ert] | noun |
A geographical area that lacks the access and/or resources to high-quality, affordable, and culturally relevant and responsive print books.
The prevalence of these book deserts is alarming, to say the least.
While low-income children have, on average, four children's books in their homes, a team of researchers concluded that nearly two-thirds of the low-income families they studied owned no books for their children.
The average child growing up in a middle-class family has been exposed to 1,000 to 1,700 hours of one-on-one picture book reading. The average child growing up in a less economically stable family, in contrast, has only been exposed to 25 hours of one-on-one reading.
This has an incredibly meaningful impact on life outcomes. Regardless of income or parents' educational background, one study asserts, "growing up in a home with 500 books would propel a child 3.2 years further in education, on average, than would growing up in an otherwise similar home with few or no books. Reading in early childhood can be the make-or-break factor for continued education.
Another landmark study found that children in middle-income neighborhoods in Washington, D.C. had multiple opportunities to observe, use, and purchase books (approximately 13 titles per child); few opportunities were available for low-income children who, in contrast, had approximately one title per 300 children.
Indeed, USC professor emeritus Stephen Krashen found that students attending schools in Beverly Hills had access to eight times as many books in their classrooms as students attending schools in the high poverty and largely Black communities of Watts and Compton. What's more, the Beverly Hills school libraries carried about three times as many titles, and their public libraries carried roughly twice as many.
Bernie's Book Bank is doing incredible work to try to solve this problem, and that's why we're so proud to partner with them here at the EOBB.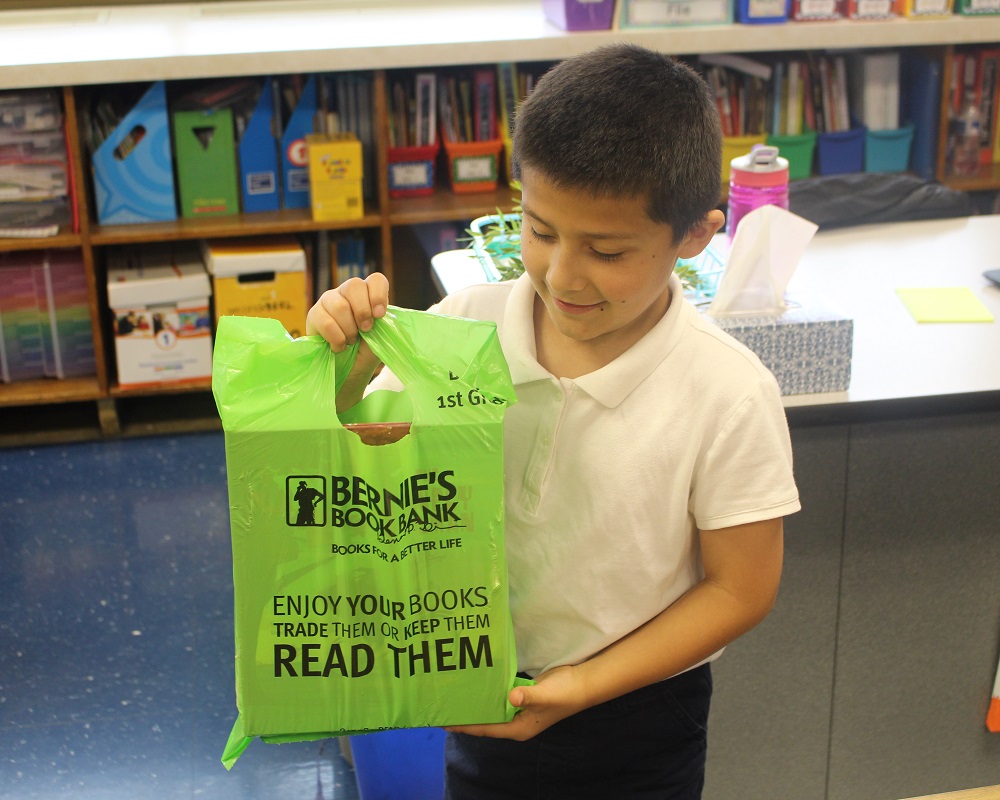 Every time we send you a book, we donate a brand new children's book to Bernie's Book Bank. Bernie's Book Bank is the leading provider of quality books to under-served children in Chicago.
They have a unique, individualized model of distributing their brand new books. They work with schools in book deserts and low-income communities. Each of the students in those schools receives 12 books a year every year from kindergarten until sixth grade - for a total of 84 books.
The books are leveled into age-appropriate groups and then delivered directly to the children that Bernie's Book Bank serves. The kids can keep the books they get for life. For many children, the books that Bernie's Book Bank provides are the first books they've ever owned.
Demijah, a student from Chicago, said "before Bernie's Book Bank came into the school, I didn't really have a lot of books. Without [Bernie's] books at home, it would just feel like I'm not imagining anything or learning anything."
To learn more about Bernie's Book Bank, check out their website here. To date, the EOBB has donated over 23,000 books to Bernie's Book Bank, and we hope to donate many more in the future! We believe that every child should grow up with many books at home, and that in this resource-rich world, no community should be a book desert.